Honda Civic Si EvoTrack Racing Video Game
Get A High Score With The New 2022 Honda Civic Si EvoTrack Experience
Check out Honda's newest mobile and desktop video game! Go to evotrack.honda.com from your mobile phone or on your desktop computer to get behind the wheel of a New Honda and earn a high score. Easily challenge your friends and family to a friendly competition to see who drives their Honda the best. Level up to earn special rewards, too! Nothing better than a little Honda video game to keep the day moving fast.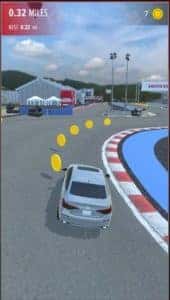 Quick Facts About Honda EvoTrack
Free Honda EvoTrack mobile game developed in special partnership with Red Bull Racing Honda, as the team prepares for the Formula 1™ United States Grand Prix in Austin, Texas this weekend
Honda ups the ante for gamers in four-week competition, where players race against each other for a chance to win special prizes
11th-generation Civic Sedan, Hatchback, Si, 10th-generation Civic Type R and Red Bull Racing Honda RB16B featured in new Honda EvoTrack racing game
With an exciting new design and even more performance, the all-new 2022 Civic Si is the best-handling, most fun-to-drive Si ever
How To Play Honda EvoTrack
While it is pretty easy to navigate on your own, here is a brief explanation on how to play. The Honda EvoTrack game is designed for players to get through as many laps as possible without colliding into obstacles or missing turns. The further you get, the more you score. On the track, several boosts are available and players can collect coins to unlock their next vehicle and gain access to more colors or Red Bull Racing Honda themed liveries.
There are three courses to choose from, which include a Red Bull Racing themed facility – "Circuit," a Route 66 style rugged site – "Desert Trail," and a futuristic "Neo City," where modernity meets tradition.
Heating up the virtual game competition, Honda is holding a four-week contest from the launch of the campaign. Players posting the top three scores of the week will win a digital voucher to purchase Honda or Red Bull Racing official licensed merchandise. The leaderboard will reset each week, giving new challengers the chance to compete for the prizes.
Honda Civic For Sale
There you have it! While you are here, check out the Honda Civic inventory we have for sale!